2017 Packaged Honey bees Waukesha - SOLD OUT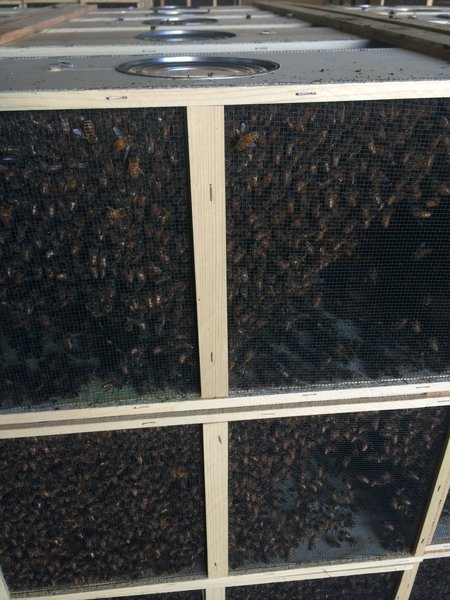 2017 Packaged Honey bees Waukesha - SOLD OUT
2017 Package Bees SOLD OUT!

!!
(Pick up Only)
Pick up info.
Waukesha:
The bees are tentatively scheduled to arrive around April 24 or 25. These dates are subject to change due to weather in California or along the delivery route. We will update the website as we are more sure of dates and times.
*****THE PICK-UP LOCATION HAS CHANGED******
If you were a previous customer please note that the pick-up location has changed this year.
The pick-up location in Waukesha, WI will be in the parking lot of Waukesha Bible Church located at S53 W24079 Glendale Road, Waukesha, WI. This is located on Hwy 164 just south of Waukesha.
Our Package Bees and Queens only come from Northern California from many breeders. Focusing on gentleness, honey production, and overwintering. The bees will come in in April and Early May**. You will be notified by email prior to pick up. Choice of Italian or Carnoilan queen will be available at time of pick up only, and will be on a first come first serve bases.
Quantity Discounts, 2 Pound Packages 1-9 $105.00 3 Pound Packages 1-9 $123.00


10-24 $103.00 10-24 $121.00

25-99 $101.00 25-99 $119.00


100+ $99.00 100+ $117.00
The website is unable to figure in the quantity discount at this time.

When checking out, select the

( Pay by Card or Check )

payment option and send in the correct payment amount.
There will also be a $.01 per package flat rate shipping fee added at the time of check out, this is part of the package cost.
We Recommend the 3 pound Package for faster spring build up in northern climates.
** Dates will be available closer to Spring, and may change with little notice due to weather conditions and transportation. We will do our best to keep you up to date.