Beginners Ultimate Hive Kit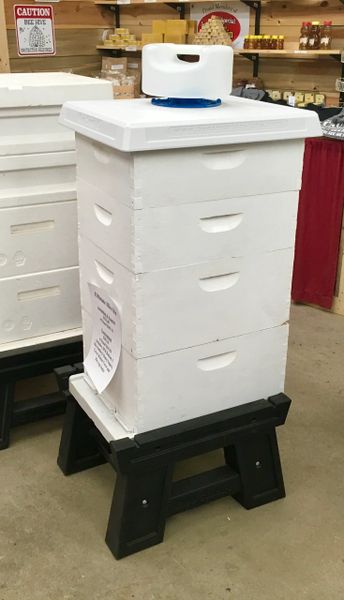 Beginners Ultimate Hive Kit
We were asked to create a beginners package that would include the basic equipment to get started and a complete hive ready for bees. So here is our, Ultimate Beginners Hive Kit Kit includes;, 2- Deep Hive Bodies with frames and foundation, 2- Honey Supers with frames and foundation all are un-assembled, unless requested (additional charges apply), Bee Smart Cover with Inner cover and Bee Smart top hive feeder.
Additional Equipment Included: 1-4x7 Smoker w/heat shield, 1- Economy 9.5" Hive tool, Bee brush, Round Handled Frame Grip, 9 Frame Spacing Tool and Frame Holder
Optional, Choice of Bottom Boards, Bee Smart Hive Stand with built in frame holder (assembly required), Excluder, Gloves, and Bee Helmet or Jacket.
Looking to add additional hives, check out our Ultimate Expanding Hive kit