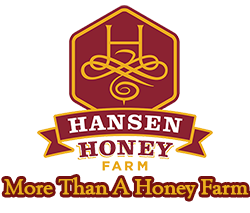 5-Frame Nucs, May 2021 (Pick Up Only)
2021 California NUCs to be delivered to us May 2021.
Pick-up Information:
Green Bay – Saturday, May 15, 9am-12pm WisDOT Park & Ride 05-02
Waukesha – Saturday, May 15, 3pm-5pm, Waukesha Bible Church
Superior – Tentative dates: May 17 or 18
Rhinelander – Tentative dates: May 17-21
Printable order forms and Quantity Discounts available Click Here.
Group and Club Discounts available, Call 715-369-0383 ask for Chris.
Nucs will contain 5-9 1/8" Deep brood frames of bees, brood, pollen, honey, laying queen and a single-use box.
We will be using a variety of queen types from several producers. Queen choice will be at the time of pick up and based on what is available at that time.
Click here for a Printable Tax Exempt Certificate
if you are tax exempt, please sign and return to:
Hansen Honey Farm LLC
3279 Hwy 8
Rhinelander WI 54501
Order Cancellations after April 1st, will be charged a $20 per item cancellation fee