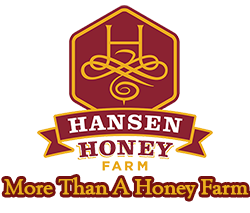 5-Frame Nucs Spring 2023 with Marked Queens (Pick Up Only)
2023 5-Frame Nucs with Marked Queens SOLD OUT for 2023
As of 4/18/23 We are no longer taking queen choice options for 2023, We are still taking orders.
Watch here for pick-up information
Estimated Pickup TBD
Pick-up Locations: Rhinelander WI, Waukesha WI and Green Bay WI
There is a $15 delivery charge per nuc for Waukesha WI and Green Bay WI included in the price.
Nucs will contain 5-9 1/8" Deep brood frames of bees, brood, pollen, honey, marked laying queen and a single-use box.
We will be offering queen type options this year for the nucs. all the queens will be marked.
Because we are custom building these nucs to your requested queen type, we are expecting them to be ready around June 1st 2022
Click here for a Printable order form with Cash price discounts
Click here for a Printable Tax Exempt Certificate
if you are tax exempt, please sign and return to:
Hansen Honey Farm LLC
3279 Hwy 8
Rhinelander WI 54501
Order Cancellations after April 1st, will be charged a $20 per item cancellation fee