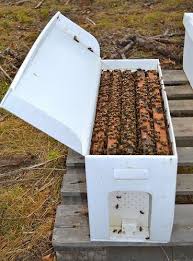 5-Frame Nucs, Spring 2020 (Pick Up Only)
Nucs will contain 5-9 1/8" Deep brood frames of bees, brood, pollen, honey, new laying queen and a Wooden Nuc Box (We will give a $10 store credit if nuc box is returned to our store).
We will be using a variety of queen types from several producers. Queen choice will be at the time of pick up and based on what is available at that time.
Nucs will become available May 2020, nucs will not be available for pick up at the same time as package bees.
Pick up dates TBD, Current pick up locations will be in Rhinelander WI, Green Bay WI, Superior WI,  and Waukesha WI.
Additional pick-up options may be available, (if sufficient orders are made for an area.)
We will be setting pick up dates and exact locations in the spring and you will be contacted. We will be delivering the Nucs to these pick up locations and handing them out.
Cash and Quantity discounts when you mail in a check, with our Printable order form.
Click here for a Printable Tax Exempt Certificate
if you are tax exempt, please sign and return to:
Hansen Honey Farm LLC
3279 Hwy 8
Rhinelander WI 54501