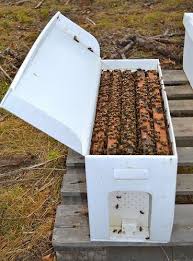 5-Frame Nucs (Pick Up Only)
This Item is for Pick up
Does not qualify for free shipping.
Our 5-Frame Nucs come from commercial beekeepers overwintering in the South or California.
Nucs will contain 5 frames of bees, brood, pollen, honey and a new laying queen.
There is no deposit required on the box.
Available in May (Nucs may become available in April 2019)
We will contact you when they are ready. Pick up will be in Rhinelander WI. Additional pick-up options may be available.
If you have already ordered packages and would like to upgrade to Nucs, please give us a call (715)369-0383
This Item is for Pick up Only.
Does not qualify for free shipping.