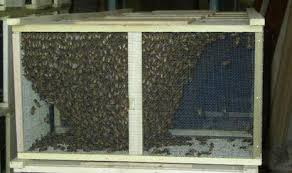 Package Bees (Pick Up Only)
4/18/2019 We were just notified that we can continue to take Package Bee orders. the Pick up dates are still the same as listed below.
Does not qualify for free shipping.
We are proud to offer Package Bees and Queens from several producers in the Glenn County area of Northern California. We have found producers that work hard to select for Hygienic and Prolific Bees and Queens. These Bees & Queens are known for their Rapid Spring Build Up, Honey Production, and are very Gentle to work with. We have also had the privilege to see first hand the facilities and process of Queen and Package production, and we are greatly impressed by the care these producers put into these amazing creatures.
With so many people selling bees…
Why Buy from us? 1) We use what we sell. We are Beekeepers and Honey Producers and we need a line of bees that produces in our area and can tolerate our winters. 2) We do it all. We drive out to California and watch these producers shake and introduce the queens into the packages. We drive them back and hand them directly to You.
Approximate Arrival,
Eau Claire hand out, April 22 & 23 Watch for email updates with time and location.
Waukesha tentative hand outs,  May 3rd & 4th 2019 ( Dates may change ) 
Ashland / Rhinelander tentative hand outs,  May 18th & 19th 2019 ( Dates may change )
Package bees are Only available for pick up from the selected location.
We will notify you, via e-mail with pick up dates, times and location as we get closer to delivery.
Queen type is choice at the time of pick up, no reservations.
**Ashland pick-up charges an addition $5.00 per package, at time of pick up. 
 Does not qualify for free shipping.